When will it appear in my account?
Bookmakers handle the machinations of bonuses differently. For most, though, if all qualifications for a bonus bet have been met, the free betting amount will be credited to your account within 24 hours, but in most cases, it happens instantly.
Where does the bonus appear?
The bonus bet amount will normally appear in a section of your account marked 'bonus'. However, BetEasy bonuses operate slightly differently and only appear in your betting slip at the time of placing a bet. It's important to understand how bonus bets work with each company that you bet with so that you don't waste any free bets.
Using bonus bets
What can I bet on?
In most cases, you can use your bonus bets on any sports or horse racing event. However, some bet types are excluded; for example, many betting sites don't allow the use of bonus bets on exotic horse racing products like trifectas and quaddies. Some operators even preclude the use of free bets on multi bets.
The other significant exclusion is that you cannot use your bonuses to obtain another bonus bet. So this means, you cannot use them on any promotional market offered by the bookmaker.
Odds requirements
Most bookmakers don't allow the use of bonus bets on any fixed odds market where the price is less than $1.50.
Placing the bet
The exact process of placing a bonus bet will vary between operators. Normally though, the option to use a bonus bet will appear in your betting slip when you go to place a bet. See the image below:
Bonus bet splitting allows you to select how much of your bonus money you would like to use, however; not all betting sites offer this feature. Betstar allows you to split your bonus money.
Winnings and calculations
With both sign-up bonuses and betting promotions, if the bonus bet is successful, the bookmaker will only return the winnings from that wager, not the betting stake. The only exception in the Australian market is Unibet, as they do return bet stake on winnings bonus bets.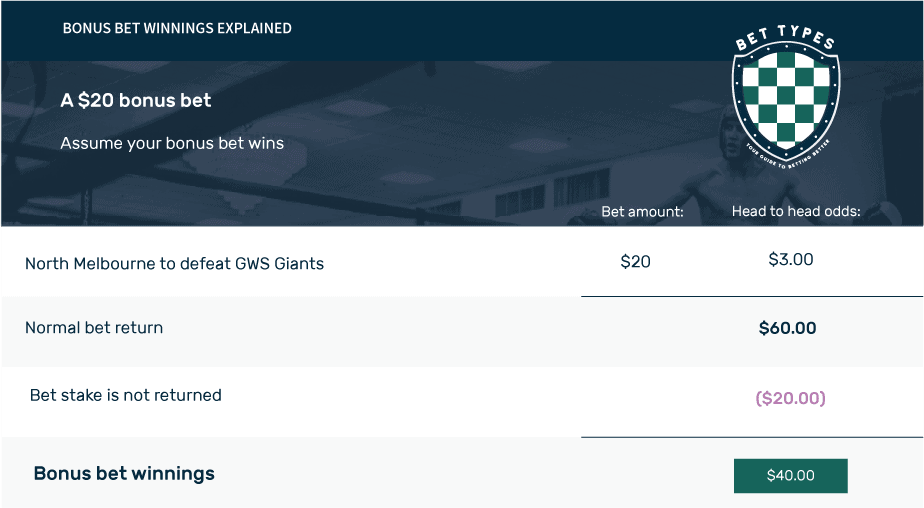 Also, any bonus bet winnings must then be turned over before withdrawal.
Withdrawal
Before you can withdraw any bonus bet winnings, you will likely have to turn over or bet through the amount at least once in full at odds greater than $1.50. This condition is standard amongst most betting agencies, but it pays to read through the terms and conditions of each promotion so that you understand your obligation should the bonus wager win.
Summary
Understanding the process of securing and using bonus bets will help you to avoid disappointment when a betting company turns around and says you are not able to withdraw funds yet because requirement 'B' has not met. While it may seem tedious at times, clearly understanding what's involved with each promotion will help you to gain an edge and bet more successfully.