What is Betting Without?
Betting Without is a bet type that allows the bettor to remove horses from a betting market to select a new field from which to bet.
The bettor then makes a selection from within their adjusted field. The odds of each runner change according to the adjusted field size. Betting Without is also called Pick Your Own Field and is only available using fixed odds.
Sportsbet Betting Without
Sportsbet offers a slightly different version of Betting Without. The Sportsbet Betting Without product only removes the favourite from the field. The odds change to reflect the new market without the favourite and are shorter than the official SP. If the bettor's selection from the new market either wins or finishes second to the removed favourite, the bet will be successful.
Betting Without example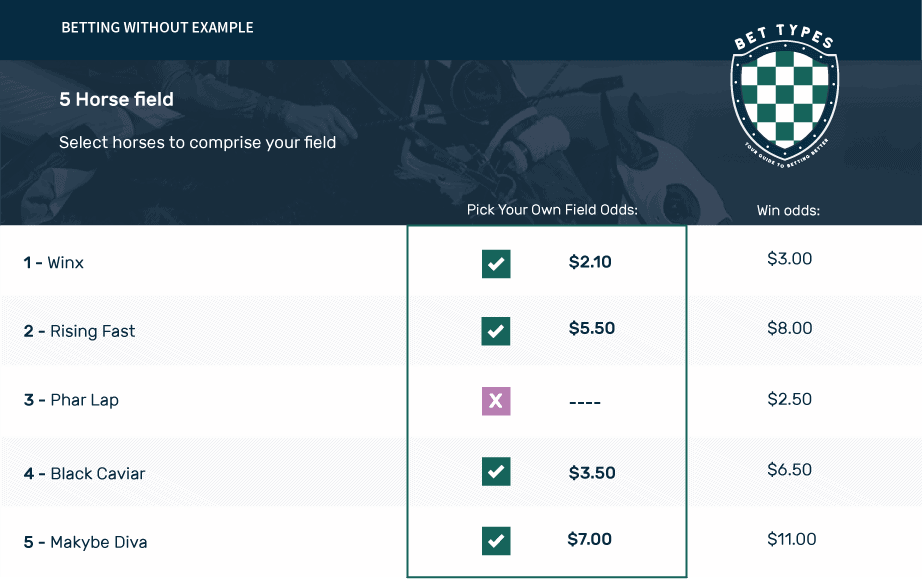 The example above shows a five-horse field with the win odds in the right-hand column. The Betting Without field inside the green box shows the field without the favourite Phar Lap. The odds have adjusted for the other runners; Winx who was a $3.00 price, is now at odds of $2.10 in the race without the favourite.