What is a flexi bet?
A flexi bet is a betting option that allows bettors to bet a percentage (%) of a full betting unit rather than having to pay the full cost of a $1 unit.
Flexi bets can be used in combination with exotic horse racing bet types like trifectas, quadrellas, and first four bets.
Lower cost, lower dividends
Flexi bets are only available for pari-mutuel bets where the total betting pool is split amongst winning bets. The flexi betting option allows the bettor to reduce and control their bet size and brings bet types like the quaddie into reach for punters that may otherwise forgo it, due to the high cost usually associated with placing a bet. Of course, with the lower cost comes a lower dividend, should the bet win.
Flexi bet example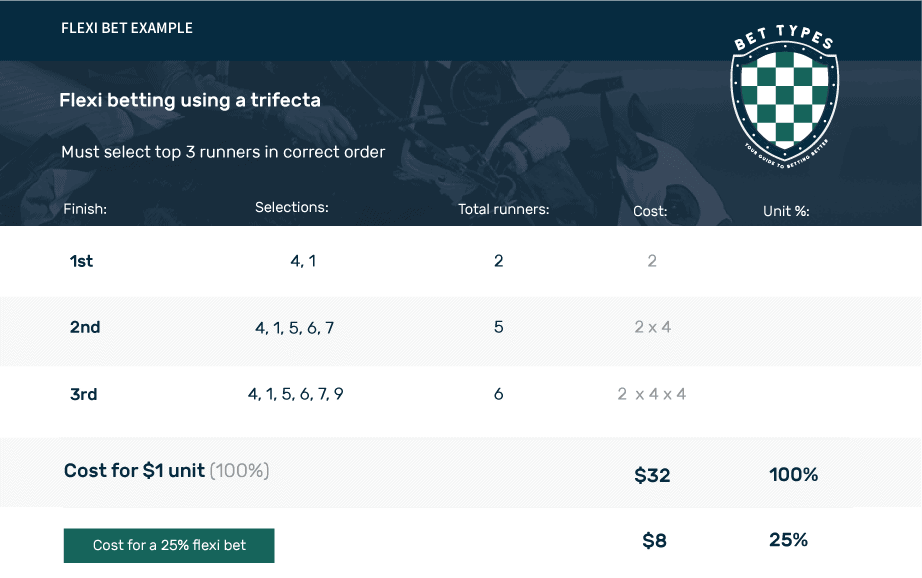 The example shows the cost of placing a trifecta bet. The cost to place a full $1 unit bet on the trifecta is $32, however, by placing a 25% flexi bet, the cost of the bet reduces to just $8. Importantly, if the trifecta bet is successful, the bettor will only receive 25% of the dividend