Win draw win betting
A Win Draw Win bet is a wager placed on a match that has three possible outcomes.
Typically, the bet type is available for betting on soccer matches, where the draw is a likely outcome due to the low scoring nature of the sport. Win Draw Win bets are also known as three-way bets and 1 x 2 bets, and they generally only apply to the full-time result of a soccer match, ie. The score as at the end of 90 minutes of play.
Similar to head to head betting
The Win Draw Win bet type is similar to head to head betting, in that it is the bet type that most accurately reflects the winning chances of each outcome before any handicapping is applied.
Win Draw Win betting example
As with all sports bet types, the Win Draw Bet is best explained using an example. Let's consider the market for the 2018 FA Cup between Chelsea and Manchester United: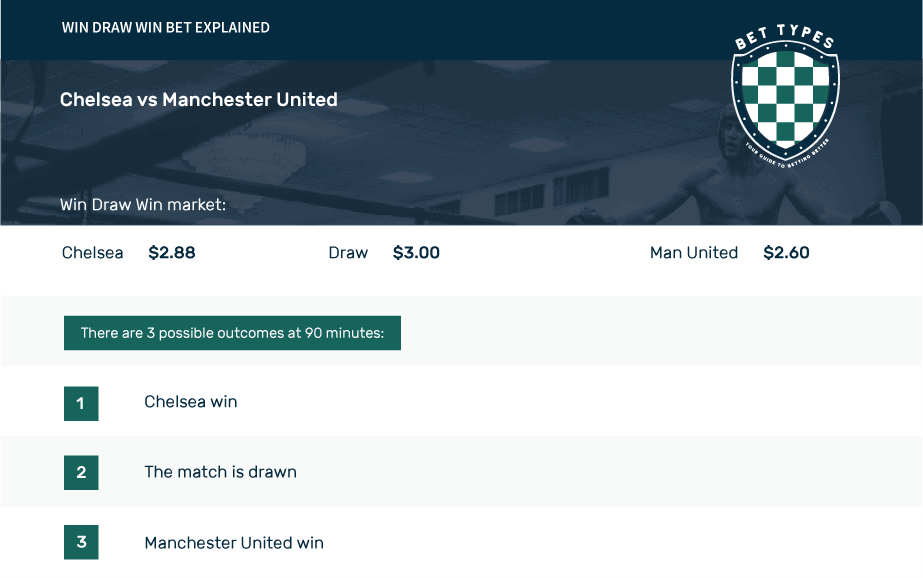 Win Draw Win market:
Chelsea $2.88, the Draw $3.00 and Man United $2.60.
There are 3 possible outcomes for the FA Cup final, as at the end of normal time (90 minutes):
Three possible outcomes:
Chelsea win
The match is a draw
Manchester United wins
Of course, if the match is a draw, the FA Cup final would go to extra time and then penalties if required. For the Win Draw Win market though, the end of regular time (plus any injury time) represents the end of the period for the wager.